Last night (Saturday actually due to an agenda change of a 3 year old) we finally got to have our Disney's Frozen movie night! We took B to see Frozen in theaters right before Christmas and we all absolutely loved it. We had talked about taking her to see it a second time but decided to wait for the DVD release. If you are one of the few people who have not seen this movie, I HIGHLY recommend it. It is by far one of the best Disney films released in a while…there is a reason it made over 1 billion dollars in the box office alone. Ok, stepping off my Frozen soapbox and back to the movie night.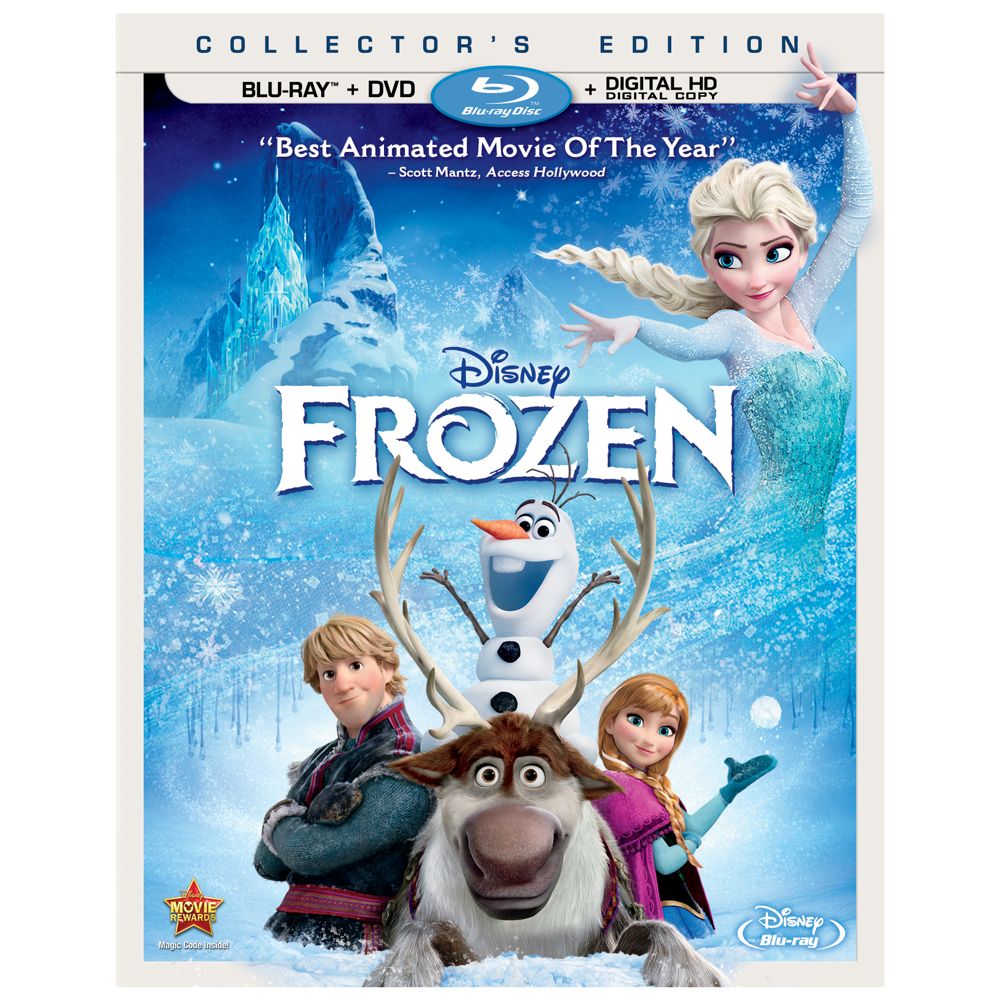 Click on image to purchase DVD at Disney.com!
Our Menu was simple because we have a three year old who has a pretty simple palette and since we had originally planned this for a Friday didn't have a whole lot of time to fix a huge to do…plus it was only the 3 of us.
We had Snow Pizza (which was originally planned as a Snowman pizza but since we used premade pizza dough it was easier to just roll it out flat), Icy Blue Lemonade, and originally had planned on (lactose free) ice cream but B decided on marshmallows for her dessert.
Both recipes are SUPER easy and you only need a few ingredients.
For the Snow Pizza you will need:
-Pizza dough (homemade or store bought works; we used Pillsbury Artisan Whole Wheat and it's GOOD)
-About 1/2 jar (about 1 cup) Alfredo Sauce (your favorite brand or homemade)
-About 1/4 cup Ranch Dressing
-1-2 cups Pizza mix shredded cheese (we like the mix and it's easy because it's already shredded)
-Cooked, chopped chicken (amount depends on you, we used 1/2 bag of Kroger Simple Truth precooked fajita chicken because B didn't want chicken, a whole bag would have covered the pizza)
-Bacon bits (amount depends on what you want)
-Really any other toppings you want (ie mini pepperonis), they blend into the sauce a little and the white cheese covers them
Steps:
-Roll out pizza dough on a lightly sprayed cookie sheet and prebake as directed on the package or as you would for homemade dough (we chose not to prebake and the dough was cooked but too soft)
-Mix the alfredo sauce and ranch dressing in a bowl (use the amount of sauce you would like)
My sous chef hard at work
-Remove the dough from the oven, top with sauce mix, then toppings, and last cheese. Make sure to do the cheese last so it makes the whole pizza white
Chicken, bacon and pepperoni on half, bacon in one corner
Mini Pepperoni only on B's corner
-Place back in the oven (ours was at 400 degrees) to melt the cheese and warm up the whole pizza
-Remove from the oven, slide over to a cutting board and slice
YUMMMMMMM!!
For the Icy Blue Lemonade you will need:
-Fresh Squeezed Lemonade (again either homemade or store bought)
-1-3 drops blue food coloring (the more you add the bluer it will be, one drop will be more of a light turquoise color)
Steps:
-Pour the lemonade into a pitcher
-Add the blue food coloring
-Mix and pour
SUPER EASY!
Now go cozy up in front of your TV, pop in Frozen, and enjoy your night!
I hope you enjoyed this foodie and family fun adventure and as always, thanks for stopping by!
~Ashley Berry